A Website that Grows with the Company: Bright Start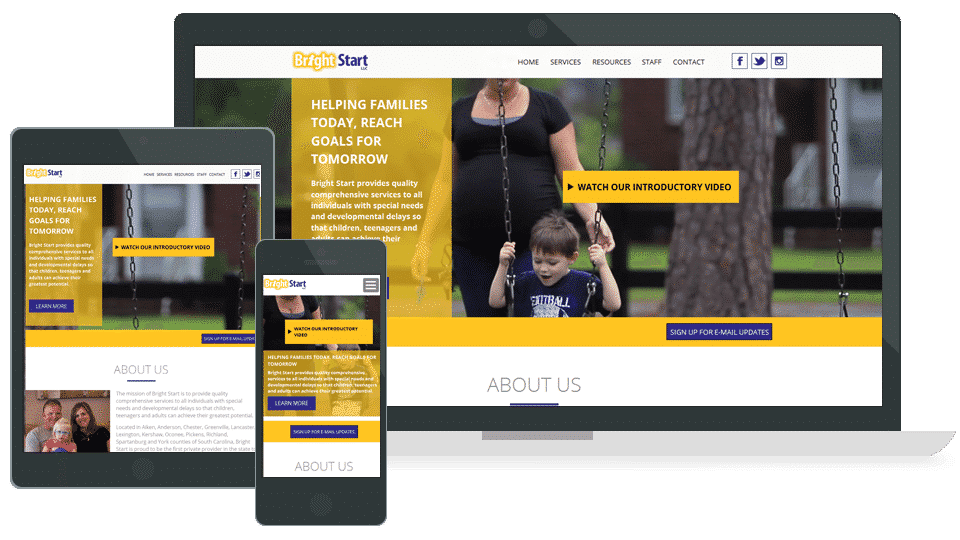 Bright Start, LLC is a company in Columbia, SC that provides early intervention and case management for individuals with special needs throughout all of South Carolina. When they came to us five years ago, they just needed a facelift on their website. GWD provided them with a professionally designed and coded installation of WordPress. Working with them we explained how a solid foundation now, will benefit them in the future.
Fast forward 7 years, we now house a plethora of applications in their website. First, they were growing and had employees spread across 3 offices (Columbia, SC, Greenville, SC, and Rockhill, SC). So, we built an employee portal into the website where they could deliver proprietary educational content and news to their employees.
Then, they were utilizing a bulky and expensive software system to track notes and information on each of their clients. We migrated this process into an online, easy to use system. GWD developed this software in their WordPress website and for about the same cost as 1 year license fee of their old non-web enabled system. These are just two of many examples of how we have turned their basic WordPress website into a powertool for the company.
Update: Bright Start now offers services in the following South Carolina counties. They are growing and Grover Web Design is honored to be a part of it!
Richland County
Lexington County
Kershaw County
Chester County
Lancaster County
York County
Spartanburg County
Greenville County
Oconee County
Pickens County
Aiken County
Berkeley County
Charleston County
Dorchester County
Anderson County
Newberry County
Fairfield County
Cherokee County
Check out the website: https://brightstartsc.com/
Video Background Homepage
Teaming up with C1Films, we created a great introductory video to show Bright Start's customers what they do and how much care they put into their services. Next, we utilized a cool video background method that autoplays the video.
For more information on this please read our blog post: Collaborating for Results.
Custom Employee Portal
Bright Start's employee portal is the home base for all critical employee data including:
Employee Handbook
Training information
"How To" section for work related issues
HR Alerts
Private FAQ for topics that the company wants to remain internal
Private Employee directory with extra contact information that they do not want to be on the public website
Each employee has their own login, so anytime someone posts a question or comments on a topic we know who they are. This creates a private online platform for employees to communicate and share information.
Easy to Manage Staff Directory
With over 100 employees it was imperative that we create a great staff page and even more important that it was east to manage.
Front-End
Check it out for your self: https://brightstartsc.com/staff/
This staff page provides very user friendly search of filter capabilities. Potential customers can come to this page and search directly for a staff member that they have been referred to or use the filter links to find a staff member in their area.
Back-End
Bright Start obviously didn't want to call us anytime they edited their staff page and they definitely didn't want to learn how to program! So, we made sure that this portal was easily editable by non-technical employees. Check out the screenshot below to see how easy it is for Bright Start to manage their staff listings.