Mesh Between E-commerce & Lifestyle Website: Koala Bottle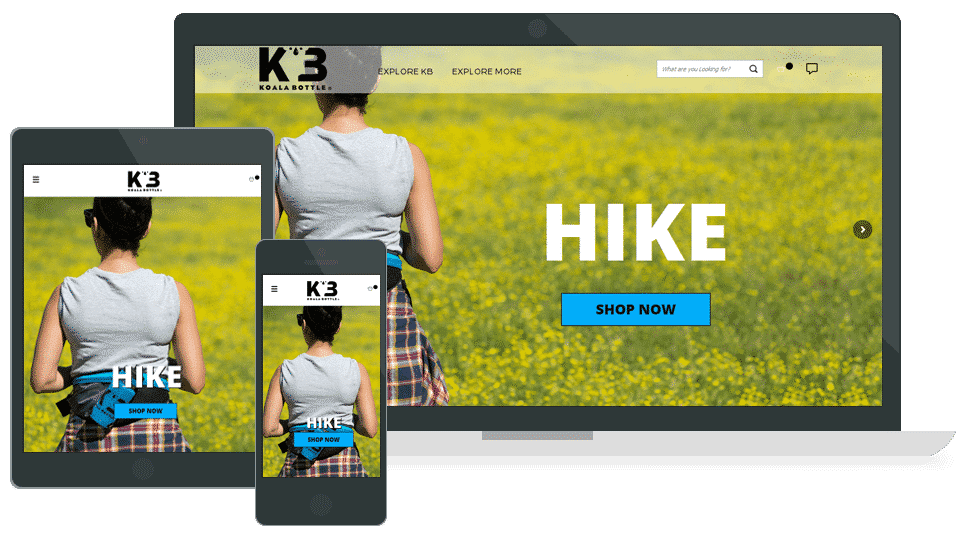 Grover Web Design has a great working relationship with Koala Bottle. Since we have been working together for a while, we know how to get things done quickly.
The 2016 Re-Design
In August of 2016, we launched a new, re-designed KoalaBottle.com. We are extremely happy with the way it came out. Our focus was to highlight the products by using great photographs the client provided.
On the homepage we went with a full screen slider that shows the 4 key activities that Koala Bottle is useful for: Running, Hiking, Road Biking, and Mountain Biking. Each slide clearly displays the product and also links directly to it's product page.
Watch below to see the homepage in action!
Simple E-Commerce with WooCommerce
Koala Bottle is equipped with WooCommerce as the e-commerce platform. We've implemented WooCommerce to minimize the number of clicks it takes to purchase.
Also, we have fully customized the product pages. Check out this video to see the powerful product pages we have created. Some highlights include:
Zoom On Hover Effect
Integrated Vimeo Videos (easily maintained by the client)
Custom Image Tiles for Color Variations (main image swap on hover)
Extra Content Section Under "Add to Cart" Buttons
No Detail Forgotten: Custom Loading Icon
The client was super excited about this little detail that we added to the site. You will notice when changing pages, the loading screen is the Koala Bottle logo. We know it's not a big deal, but it's a cool little extra aspect that really helps promote the KB brand!
We would add an image here to show you, but it doesn't do a justice! Go check out koalabottle.com and see how it works!
The Koala Bottle website is the global gateway to our brand. Grover Web Design's expertise and practical approach to website development has enabled Koala Bottle to achieve its goal of creating a simple and functional website for customers to learn about and purchase our products.
Anthony Goldman,
CEO of Koala Bottle