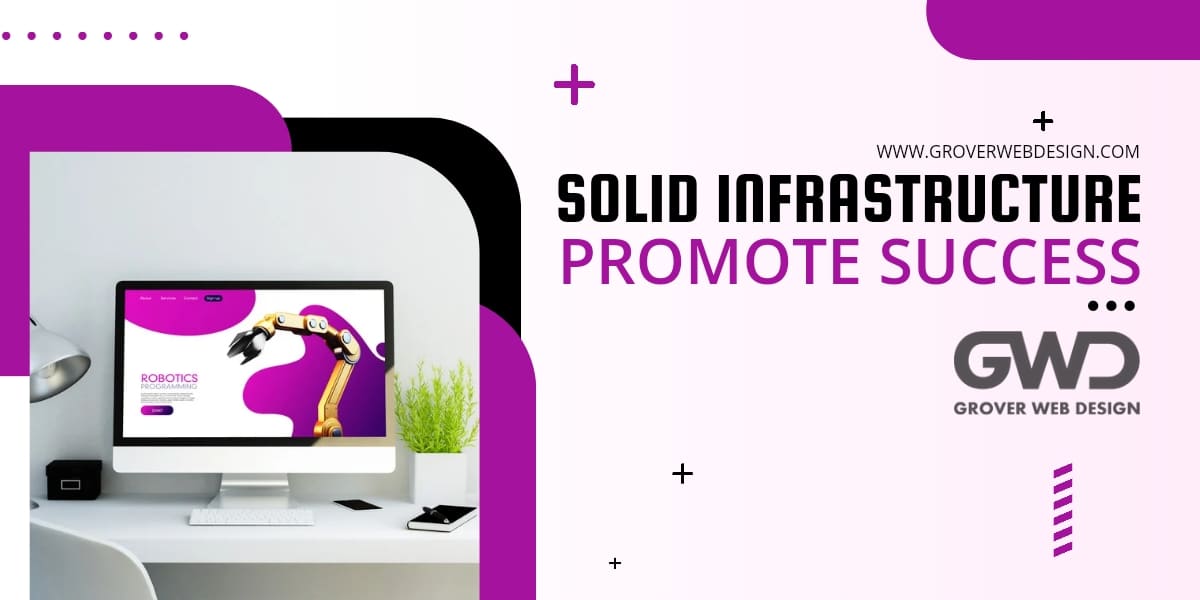 Solid Infrastructure Promotes Success
Solid Infrastructure Promotes Success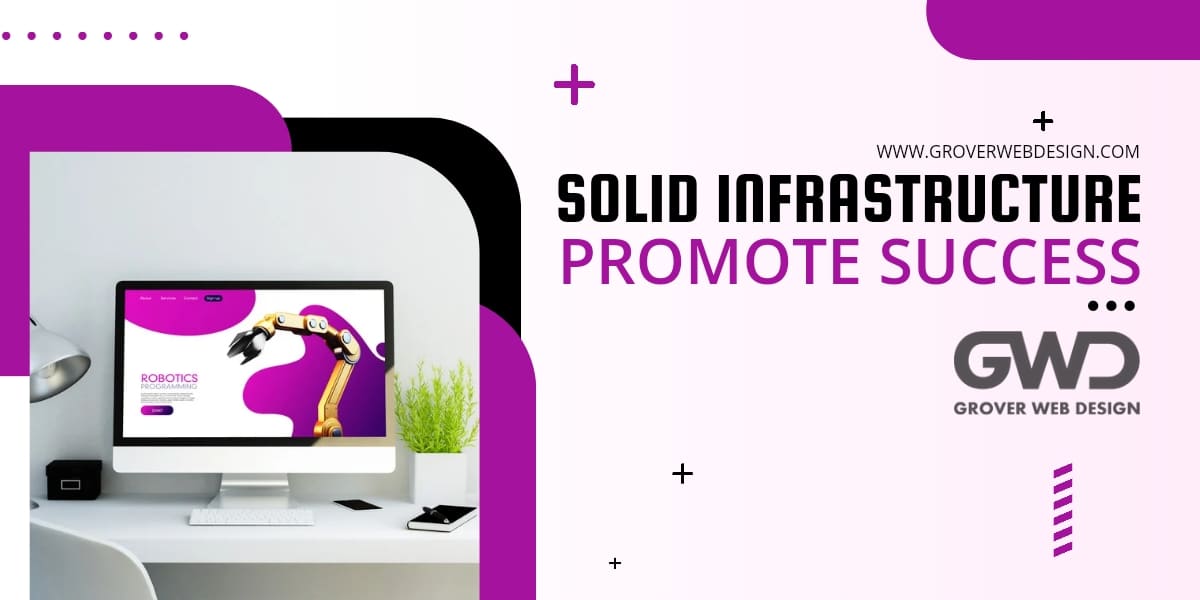 Grover Web Design (GWD) is a web development company that specializes in WordPress, mobile-friendly designs, and managing Google Apps accounts for company emails. With a focus on creating user-friendly websites, GWD has established itself as a premier agency for building a robust online presence. The company manages over 250 WordPress websites for its clients, including simple informational sites, e-commerce websites, CRM tools, and websites that include workflows to help companies run more efficiently.
The company's approach to web design is rooted in the belief that a well-designed website can build trust and guide visitors to take action. This involves optimizing the website design for usability, aesthetics, and functionality. GWD also offers a list of 20 different ways to modernize a website, such as making it fully responsive, updating the logo and content, replacing old stock photos with real images, and making content more SEO and search friendly.
At GWD, the emphasis is on making things easy for non-technical clients to manage their own website, while still providing full service, turn-key websites for those who prefer to leave the day-to-day website management to the professionals. This approach allows GWD to easily jump in on a site to make updates as needed, without having to acclimate to how each individual site works. With over 300 websites under their management, all working the same way, it's easy and quick for them to jump from site to site.
GWD's custom web development services include updated design with a UX (user experience) focus, analytics tracking to optimize site and marketing efforts, and monthly updates. They also build custom iOS and Android apps, with an Enterprise Developer's license from Apple allowing them to build and distribute applications both in and outside of the App Store. Many of these apps provide core business functionality for companies, and are not available to the general public on the App Store.
The company's clients range from small, local businesses to national and international corporations. They understand the value of investing in an online environment that will help grow their company and decrease inefficiencies. GWD has designed websites for a wide variety of industries across the United States, and maintains ongoing relationships with their clients, combining their domain experience with GWD's expertise in web design, hosting, custom web development, and domain email.
GWD's approach to web design is guided by principles such as accommodating the needs of the user, simplicity, easy navigation, F-shaped pattern reading, visual hierarchy, content, grid-based layout, and quick load time. These principles ensure that the websites they design are both visually appealing and functional, providing a great user experience.
In today's digital age, having a strong online presence is crucial for businesses. With 81% of shoppers choosing to research a business online before making a purchase, and 55% searching for online reviews, having a well-designed and functional website can greatly impact a business's success. GWD understands this, and strives to provide their clients with websites that not only look good, but also simplify the operation of their business.
In conclusion, Grover Web Design's commitment to providing easy-to-manage, full-service websites for their clients, coupled with their expertise in custom web development and app creation, makes them a reliable choice for businesses looking to establish or enhance their online presence. Their focus on usability, aesthetics, and functionality ensures that the websites they create are not just visually appealing, but also effective in guiding visitors to take action.
One Follow-up Email = 22% Higher Response Rate
According to research conducted by Woodpecker, sending just one follow-up email could increase your response rate by 22 percent. It was also shown that the first follow-up email is the most effective with a 40 percent higher response rate than the initial email which sits at around a six percent response rate. This shows the immense potential of follow-up emails in enhancing customer engagement and improving business outcomes.
However, it's important to note that the CAN-SPAM Act applies only to commercial email, whether sent individually or in bulk. It doesn't apply to non-commercial bulk email. While some businesses still use spam, many view it as unethical. Spam email can also be a malicious attempt to gain access to your computer. Therefore, it's crucial to ensure that your follow-up emails are not perceived as spam by the recipients.
Revenue is Being Left on the Table
In the realm of sales, following up is a critical skill. According to a study by Brevet, 80% of sales require an average of five follow-ups in order to close the deal. However, 44% of sales reps follow up with a prospect only once before giving up. After four follow-ups, 94% of salespeople have given up. This shows that many potential sales are never being closed, and potential revenue is being left on the table due to inadequate follow-up.
When crafting follow-up emails, it's important to provide value with each follow-up. This could involve including a link to a relevant article, blog post, or video in your follow-up email. The content must relate strongly to the prospect and the problems they've told you they are facing. By providing them with useful content, you prove that you are interested in a mutually beneficial relationship as opposed to a quick sale.
https://thewebsitearchitect.com/how-to-modernize-a-website/
https://www.forbes.com/advisor/in/business/software/how-to-make-a-website-for-your-business/
https://groverwebdesign.com/
https://www.zippia.com/advice/small-business-website-statistics/
https://digital.com/best-website-builders/should-you-create-multiple-websites-for-your-business/#:~:text=What%20are%20the%20benefits%20of,segmentation%20(and%20market%20share).
https://www.facebook.com/groverweb/photos/a.594432223926152/1842464259122936/?type=3
https://www.linkedin.com/company/grover-web-design
https://groverwebdesign.com/custom-web-development/
https://www.prnewswire.com/news-releases/27-of-small-businesses-still-dont-have-a-website-in-2022-301542302.html
https://www.jdomni.com/support/faqs/can-i-create-multiple-websites-with-one-domain-name/#:~:text=One%20domain%20can%20be%20mapped,them%20point%20to%20different%20websites.
https://www.838agency.com/10-uses-of-web-design-package/
https://www.feelingpeaky.com/9-principles-of-good-web-design/
https://www.nobledesktop.com/learn/web-development/how-difficult-is-it-to-learn-web-development
https://www.linkedin.com/pulse/2021-small-business-website-statistics-you-need-know-saita-%E6%96%8E%E7%94%B0-
https://www.zoominfo.com/c/grover-web-design/345905283
https://joomla.stackexchange.com/questions/2489/multiple-website-managment-with-joomla
https://www.quora.com/Why-are-all-the-big-websites-using-subdomains-instead-of-separate-domains
https://www.linkedin.com/company/grover-web-design#:~:text=We%20manage%20over%20250%20WordPress,help%20companies%20run%20more%20efficiently.