Stop using @gmail.com, @yahoo.com, or any other Generic Email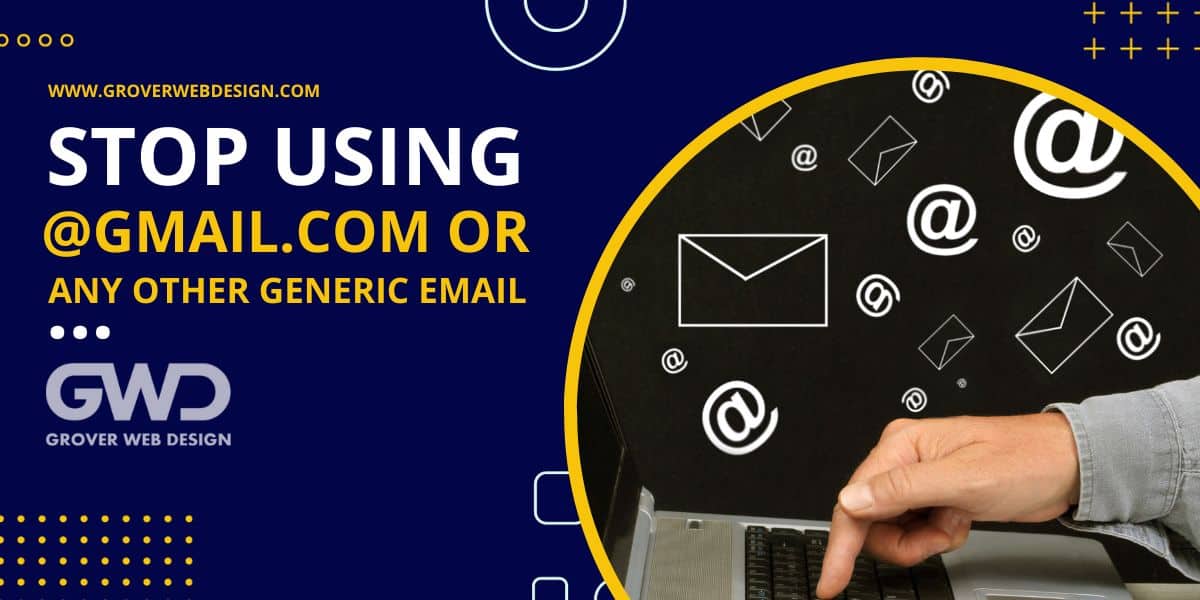 Spoiler Alert: Business Email is only $5/user/month
If your email address looks unprofessional, you are losing customers. You will be clueless, because they will not have contacted you!
Why your email address may be driving away customers
A lot of small businesses opt to keep their old, personal, generic email address e.g., [email protected], [email protected].
DON'T. Instead, you should get an email address that uses your website's domain. But, why go through the hassle of changing your email? As the saying goes, if it ain't broke, don't try to fix it—right?
It is more "broke" than you think. Let's say you're planning a wedding and you want treats for your guests… you end up at the website zestycakes.com. You're impressed with their product, so now it's time to get in contact with them. Which would you rather deal with…
or
The second one, right? It all hinges on trust. The personal email address smacks of amateurism, which will lead potential customers to start second-guessing: Is this business legitimate? Can I trust them to deliver?? Will they steal my money??? 
On the other hand, the address with a business domain conveys professionalism, reassuring a potential customer that this is an honest, established business they can rely on.
Below you will find all the tech mumbo jumbo to back this up. If you need to see the numbers, read on. But, if you want to make this upgrade or have questions, Grover Web Design can help!
Google surveyed businesses that started out life with a personal email address, then switched to an address with a business domain later on. 60% of these businesses reported an increase in customer engagement and 42% reported an increase in sales as a result. That's a massive result for something as seemingly minor as changing the words after the "@" symbol. But that's because, it's not minor—the domain instills trust.
3 Reasons why you should NOT conduct business using a Generic Email Address.
FREE, generic or ISP based email addresses do not look professional.
FREE, generic or ISP based email addresses do not make you look like a permanent company who will be around for the longer-term.
Emails from generic, Free or ISP based email addresses are the ones most often used by scammers and thieves. This means your emails will not always get through business strength email servers (such as Microsoft Exchange ) that protect businesses from SPAM.
4 more reasons you SHOULD conduct business using your own domain name email account.
Adds Credibility – As the saying goes: "You never get a second chance to make a first impression". Having your own domain name projects a professional image of you and your company, normally associated with large companies. It tends to say to others that you're a serious business person, operating an established business, in a professional manner.
Email Aliases – by doing business under your own domain name, you can use multiple Email "aliases". Every Email message affirms your name, eg [email protected] , [email protected] , [email protected]
Free advertising – Every time you send email from your domain, you are advertising your brand or business name and strengthening your brand amongst those who receive your message.
Simple to find, remember, and use – By using an email service that bases your email addresses on your domain name instead of gmail.com, hotmail.com, or yahoo.com  you gain freedom to use simple, memorable addresses like: [email protected] or [email protected]
Contact us today to learn more about how easy it is to get you on the right track with a Google Apps email systems! [email protected]
For more information read about: 10 REASONS WHY YOU NEED A GOOGLE APPS GURU FOR COMPANY EMAIL